4-26-18
NEED MORE LIGHT! lol. Well thats what I explained to my wife. Yes the little 15″ light on the front does a good job but I love night riding and wanted more light. So I got on Amazon and picked out the 50″ light bar that had the best reviews. Picked it up for about $120 with shipping. Pretty pleased with that. Came in all nice and neatly packed just liked everything from Amazon.


Now to find the right mounts. I never have liked the FJ Cruiser style mounts that come off of the factory roof rack. I think they are cheap and just don't look good. So I began looking around at what I thought would look good and be very durable. I was inspired by the light mounts by DBCUSTOMZ and love that pillar style.


But Good Lord $280…I'm on a budget here and I know some good welders at our local High School that love it when I send them some south Louisiana boudain lol…so I took the FJ by along with the light bar and they measure it all up. They got kinda expressive with their laser cutting machine and came up with a cool design. They said the stars were to represent law enforcement. I thought it was kinda cool.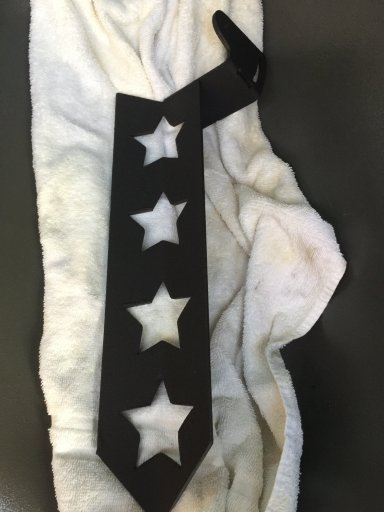 Well they had trouble with their machine and I had to wait about 2 weeks longer than I thought I would for these so in the mean time you can read the above post that I installed my Volant Snorkel. This kinda messed up how the light bar mounts would fit. So I took it all back to them to be tweaked a little. They ended up cutting them down a little to make them smaller where they would fit above the snorkel mount. I like the look. Plus not quite as flashy. lol. I need to put one more mounting bolt into the pillar but the light definitely is not going anywhere. It is very solid drilled right into the internal roll cage. lol.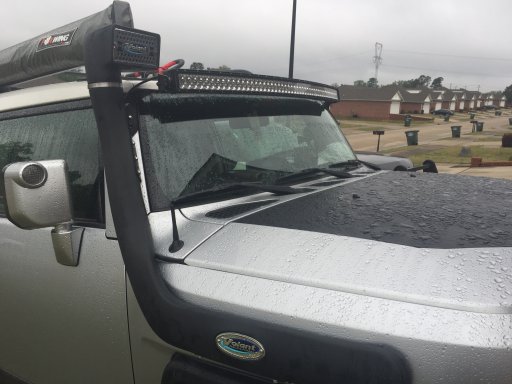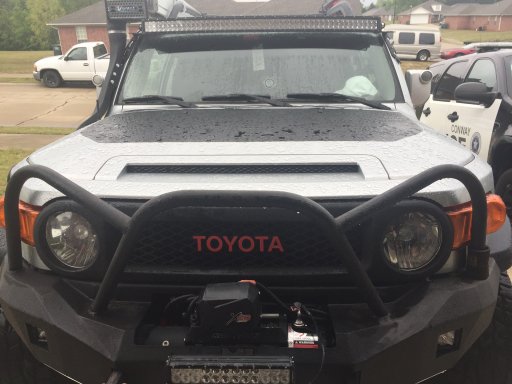 Works great and man it puts out some LIGHT! All in all I have about $130 in the project as my buddy provided all the wiring into the other light for nothing. We worked about 3-1/2 hours in the pouring rain and about froze to death but its on and working and I love it.
5-1-18
I am always looking around for storage ideas for the FJ since there is limited space. I was playing around on Ebay one day and spotted the Rigid Insert Panel MOLLE that you can mount directly in front of the passenger seat on the dash.
https://www.ebay.com/itm/Rigid-Inse…e=STRK:MEBIDX:IT&_trksid=p2057872.m2749.l2649

So I made the purchase. My vehicle is going to be used and I doubt ever sold in my lifetime so I am not afraid to drill holes to make it more useful. So it came in and I went to town. Went down to the local Ace Hardware Store and picked up some screws and spacers. I got 3/4″ spacers to get it out a little bit from the dash and so I can get the MOLLE bags on and off with ease. Ordered up 2 MOLLE bags that I thought would be useful to me and my wife (since she is the one mostly sitting over there) that we could put keys, sunflower seeds, cell phones, etc in and would also look good. I nailed it.


Even got a few patches on there for decoration. Very useful and helpful it will be for us. I am very pleased and very glad I was able to make use of this space that really was good for nothing.
5-10-18
After installing my bull bar on my front bumper I was able to make me up some limb risers. I really wanted some of these because in Arkansas when the trees get their leaves, we get a ton of limbs in the trailways.
I watched @Michael's video of how to make your own and it looked pretty easy. Pretty sure I can accomplish this.
So I went down to the local Home Depot and picked up my supplies. All together about $25


First, I made my little pieces to go around my bumper. I got coated wire, but really didn't want the wire to rub off the coating of my bumper. So I made these little pieces to go around my bumper which have a piece of rubber tubing that I had left over from my scuba mod to protect the coating.


Then I drilled a hole in my light bar mount and began the mounting process. First was to install the long wire to my front bumper.

Then attached it to the top light bar with the adjustable piece.

Then tighten it up.
No problem except there was a flaw in my design. Putting the piece around the bumper meant that I would have to attach the loop inside of the loops already made. I got the hammered on kind of loop connector. I should have got one set of the loop connector that is screwed together. There was no place to hammer on the vehicle and not create some damage. Needless to say I had to repaint a portion of my front bull bar. But its done and looks nice. I'm pleased with it.

Comments