2-1-18
High Lift Jack Mounts
I bought some (what I thought was) cheap high lift jack brackets off www.purefjcruiser.com
http://www.purefjcruiser.com/warrio…er-hilift-jack-mount-for-oem-rack-p-2637.html

I hated them. They sent the wrong parts. The wing nuts and bolts were wrong size. The Carriage Bolts supplied did not work well because the holes in the mounts are round and apparently they didn't realize that a square head won't fit in a round hole so you couldn't get the jack tight. It rattled like crazy going down dirt roads and I hate rattles.
Then a really nice member on OB posted some Demello High Lift Jack Mounts on the "Pay it Forward" Thread and I asked if he still had them. He sent them to me right after Christmas. They are amazing and so much better quality. I moved the mount to the back because I can stand on my Smittybilt rear bumper and easily remove the jack (even with another person if needed).
http://demello-offroad.com/demello-jack-hi-lift-clamps
2-5-18
Little Girl got some new shoes this past week. 3″ lift, 2″ spacers and a little trim of the subframe and I was able to go from 285's to 305/70-17. HUGE difference. About a complete 2″ over the previous. Love them. Went with what I had – Toyo AT2. Took it out yesterday and rubbed a few times when the suspension was in distress and maxed out on turn radius, but I can live with that.
2-14-18
This past weekend we went on a trip with several guys from Overland Bound and Natural State Overland up in the Ozark NF here in AR. Instead of using 2-way radios like I have always used they use CB radios. So I had to make a purchase.
First I purchased the inside mount for the mic/CB.

This is a great addition to any FJ cruiser. This mount can go either on the driver side or the passenger side. I will most likely order another and have it hold my Ipad Mini when I purchase it. Very easy to install and a perfect mount for the mic.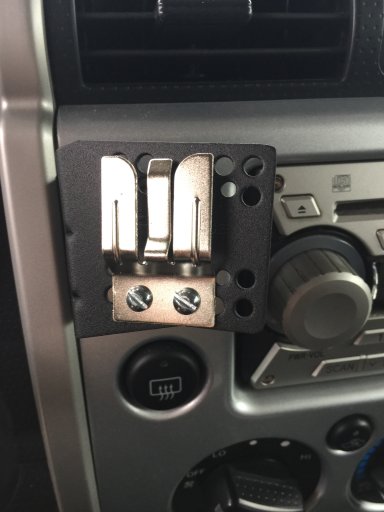 Next I purchased the antenna mount for the rear of the vehicle. This a specially made antenna mount that replaces part of the door hinge.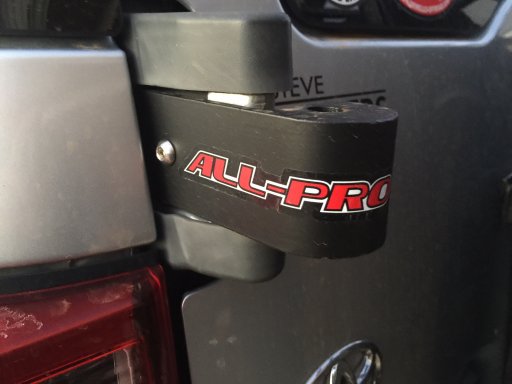 https://www.allprooffroad.com/shop/fj-cruiser-bandi-cb-mount/
It fits perfect and is an easy install. Next came the Firestick Antenna. I went with the 2 foot. I knew I wasn't going to have to communicate with anyone that was a large distance away and I didn't want it to stick up any higher than my roof rack because of limbs and other things that could rip it off. I also bought a spring to go with it. It is perfect.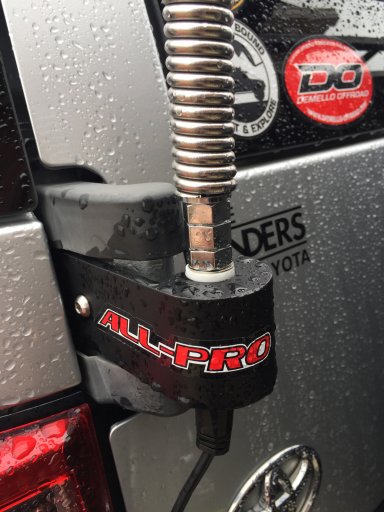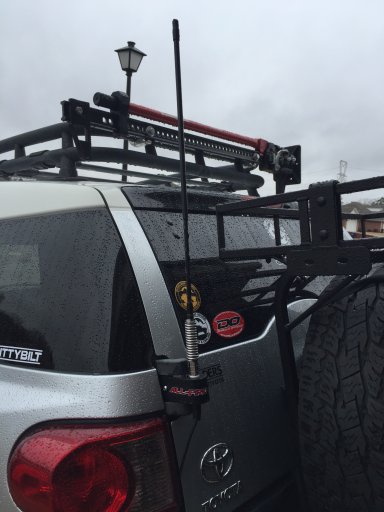 Finally came the CB. I had looked all over trying to figure out what I wanted. I knew I didn't want something large that took up a lot of space. I wanted something with minimal space that could do the job. I found it.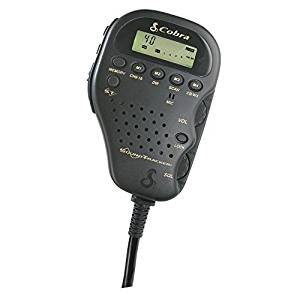 The Cobra 75WXST radio is so awesome. There is very little to mount. It is easy to operate and it takes up minimal space. It has a small box that comes with it where the antenna wire comes in. I mounted the box underneath the seat to get it out of the way and ran the cord for the mic up the right side of the driver side seat to the mic mount. I tucked the wires underneath the center console and ran the positive and negative wires to the batter and I was done. Perfect.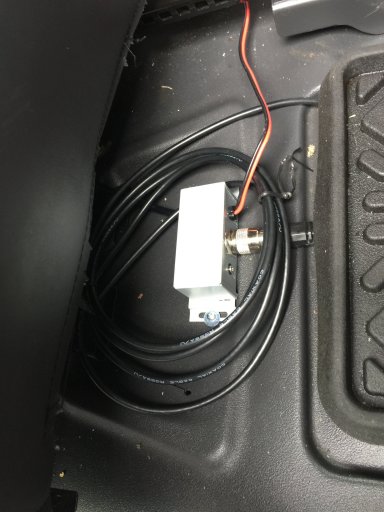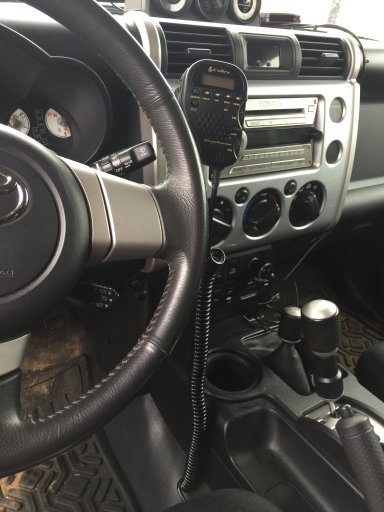 Til next time BROfessor Out.
Comments